Cashew nut processing machine suppliers
Cashew, known as its kidney-shape appearance, is believed by people that it is beneficial for our health. In recent years, more and people get interested in cashew nut. However, in China, cashew nuts are only distributed in Hainan, Yunnan, Guangxi, Guangdong, Fujian and Taiwan. The cashew snacks we see in supermarket mostly are imported from Brazil, Africa, India and Vietnam. There are a large number of cashew produced in these countries every year.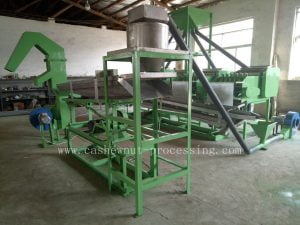 However, the cashew processing machines in these countries are not as advanced as ours. Most of their machines depends on people's handling. Their processing of cashew nut spend a lot on labor. This is low efficient and largely decrease the capacity of cashew nut production. In China, there are numbers of cashew nut processing machine suppliers. Shuliy Machinery Company, as one of them, is established in the year of 2000 and until today, it has accumulated rich experience in exporting machines overseas. In order to meet the increasing demand of cashew production, we have researched highly automatic cashew processing machines. With them, every step used to depending on people's work can be completed all by the machines themselves. Besides, based on your expected capacity, we can design a suitable processing plan for you. We have exported cashew processing to many countries so far. We can be a good choice for you. We are looking forward to a cooperation with you!